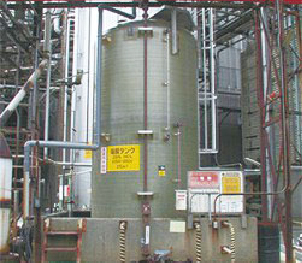 FRP tank maintenance / inspection
Recently, information on accidents related to FRP tanks has increased. Due to the nature of tank, there have been reports of cases where the tank suddenly collapses while receiving and using chemicals for a long period of time without regular inspections like plant machinery. Also due to the nature of FRP, the contents of the tank also cause chemical deterioration and aging deterioration. Even though it is made of FRP, it has life span. The situation varies depending on the number of years since the start of use, but stable use for a long period of time will be possible by performing inspections and repairs at an early stage. Please take this opportunity to consider inspection by our experts.
Inspection procedure
Confirmation by photo [Free]
Please contact us first.
We will tell you the inspection items to be inspected.
Please take pictures of the outside and inside of the tank by yourself and send them to the Imai Factory by post or e-mail.
Mail to Us

Appearance / visual inspection
During normal operation, we will visually inspect the inside of the tank from the outside and the manhole to judge the condition.

Inspection of inside the tank
After completely draining the chemicals in the tank, cleaning it, and the condition of the inner corrosion resistant layer is judged from the inside of the tank, the minor defects found during the inspection are repaired.