Raleigh tank for transportation
FRP raleigh tank for transportation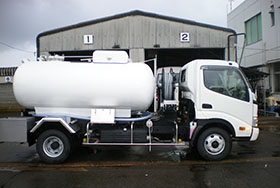 【Features】

Lightweight → The FRP tank itself is lightweight, so the total weight of the vehicle is lighter, and the load capacity is greatly increased!
Longer life span than metal (stainless steel, steel).
Excellent heat retention.
(If it is made of sandwich structure, raw milk at 4 ° C will only rise by 1 ° C after being left for 12 hours. Also, the temperature of a hot spring at 45 ° C will not drop for 4 to 5 hours.)
There are cylindrical cross section and elliptical cross section.
For direct mounting of trucks chassis and mounting on flat bodies.
【Applications】
Food: Milk, soy sauce, and other foods
Hot spring: For hot spring transportation and home delivery
Chemicals: Industrial chemicals, coagulants, etc.